Selecting the right drainage system
The requirements of a drainage system differ widely across specifc applications within a building. Each drainage element must be carefully considered to assess their visual and functional impact on a buildings design.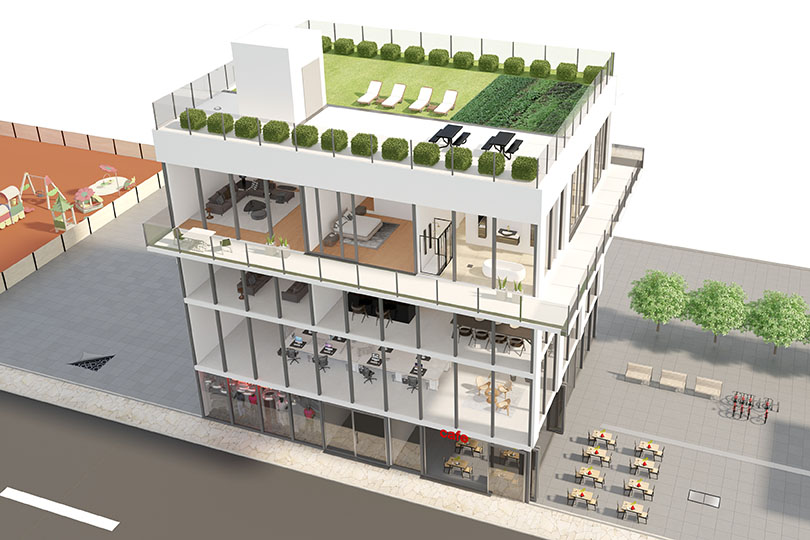 Aesthetics
The aesthetics of a drainage system must be carefully considered to ensure it is consistent with the designer's visual project objectives.
Selecting drainage that enhances or blends with the aesthetic is an important consideration as drainage is used frequently across commercial and residential buildings.
Buildings visually and physically interact with the environment. The visual integration of drainage into a building's architecture is extremely important. Visual continuity throughout a project is a subtlety within building design. Designers specifying the same grate type throughout a building, whether it be in a courtyard, balcony or bathroom creates continuity of design.
Grates could either harmonise with the design of the building or become a feature  element. For instance, longitudinal grates can accentuate the sleek lines of a building in contrast to tile grates which can be used to blend seamlessly with the pavement and surrounds.
Products must be compliant with Australian Standards. WaterMark is an Australian certifcation for plumbing products, including drainage. All of ACO's stainless steel drainage products are WaterMark certified for compliance.
Sizing and hydraulics
To ensure a building and its elements have the appropriate barrier protection, an assessment of the hydraulic capacity of both the channel and grate is essential.
A correctly specifed drainage system stops rainwater transgressing into a building or into other sensitive areas. Catchment hydraulics are site-specifc and therefore require specifc calculations to ensure drainage systems are correctly selected and sized.
To read more about this, click here.
Specific site and user requirements
For every application consider:
Traffic flow: bare feet, heels, vehicles
Local environment: proximity to the ocean, a swimming pool or other harsh environment
Legislative requirements: slip resistance, aesthetics, load ratings
There are other application-specific considerations to select the right drainage system:
Green roofs
Water management in a green roof is vital to keep plants and vegetation with a natural supply of water, whilst protecting against the effects of standing water.
Depth of soil overlying the slab?
How will the drainage interface with waterproof membrane?
To learn more about green roofs, click here.
Balcony or terrace
Depth available in the slab for drainage?
Where should the drainage element be positioned in the slab, relative to the door?
To learn more about shallow drainage in balconies and terraces, click here.
Door threshold
Is a level threshold required for accessibility?
What door profile is being used and how will it integrate with the drainage element?
To learn more about door threshold drainage, click here.