BalconyDrain - shallow drainage
BalconyDrain is a range of shallow drainage channels and is not limited to use in balconies.
It can also be used in areas along the building line, for example, terraces, patios and other areas with restricted construction depth.
BalconyDrain is available in a range of depths and widths to suit site, user and hydraulic requirements:
85mm and 103mm wide channels
Shallow 25mm and 40mm depth channels
To download the BalconyDrain specification information, click here.
Grate type
Compliance
Affiner

Wet pendulum: P1
Wet barefoot: A
5 Star Heelsafe® Anti-Slip

Wet pendulum: P4
Wet barefoot: C
Linéaire

Wet pendulum: P1
Tile

The slip resistance of this grate
depends on the infill material specified.
Grate type
Channel width
(nominal) mm
Channel depth
(nominal) mm
Specification code
PDF
DWG
RFA
Affiner

85

25

S85-25-A

103

25

S103-25-A

103

40

S103-40-A

5 Star

103

40

S103-40-5S

Linéaire

85

25

S85-25-L

103

25

S103-25-L

103

40

S103-40-L

Tile

85

25

S85-25-T

103

25

S103-25-T

103

40

S103-40-T
25mm deep channels


40mm deep channels


All dimensions are in mm
Need advice in specifying BalconyDrain?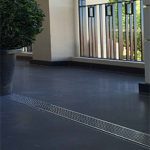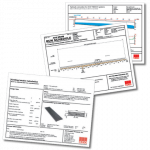 ACO offers project specific services designed to make specification, ordering and installation easy.
The services deal with each project's unique, hydraulic, structural, maintenance and spacial requirements. The service is fully documented and is offered free of charge and obligation.