RainTrak® is a  stormwater drainage system designed for integration with a drainable aluminium doorsill to create a flush entranceway.
Each door manufacturer has differently designed doors, requiring customised drainage solutions that specifically suit the sill used on each project.
RainTrak® comprises two models:
RainTrak-O: Where the sill is not enclosed by the channel system and can to be used with any number of door tracks
RainTrak-E: Where the sill is enclosed by the channel system and is made to suit certain numbers of sliding doors
Careful consideration has been given to the design of RainTrak® to isolate the stainless steel channel from the alumiunium doorsill as dissimilar metals cause galvanic corrosion. The nylon push-pins and packers and sealants used during setup and installation of the sill ensure critical separation.
Note: It is the designers responsibility to ensure that channels are fit-for-purpose and meet all requirements, including sill compatibility and hydraulic performance.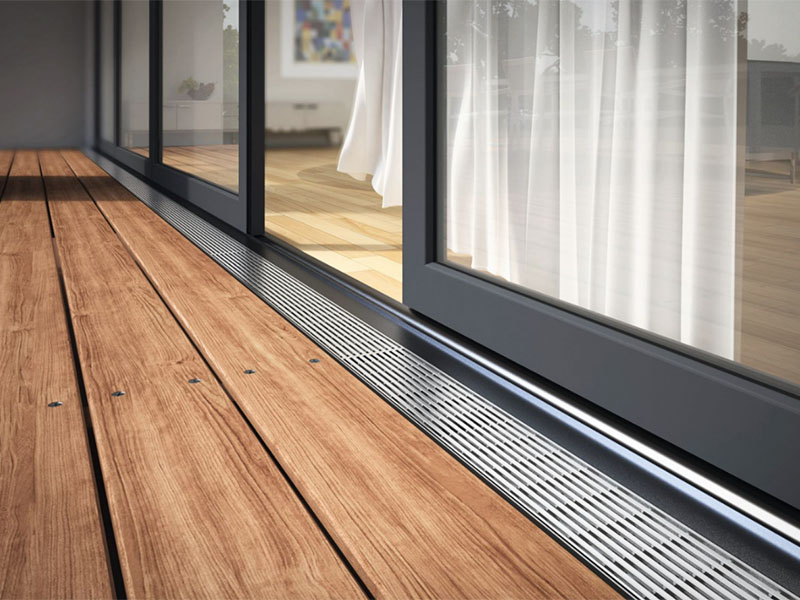 RainTrak® - threshold door drainage
| | |
| --- | --- |
| | Removable grate for quick and easy maintenance |
| | Grates feaure cut out for subsill integration |
| | 'V' shaped profile to aid water flow to outlet and minimise standing water |
| | Nylon push pins isolate dissimilar metals |
| | Concrete ties to prevent floating |
| | Variety of widths available, 75, 100 and 123 (nominal) |
| | Grate legs fixed to channel for stability |
| | Manufactured to suit different sill and subsill requirements |
RainTrak® - product details
To download the RainTrak® specification information, click here.
Grate type
Compliance
Linéaire

Wet pendulum: P1
Compliant to AS 1428.1 Clause 4.4 (c)
Affiner

Wet pendulum: P1
Wet barefoot: A
Compliant to AS 1428.1 Clause 4.4 (c)
Type
Grate type
Channel width
(nominal) mm
Specification code
PDF
DWG
RFA
RainTrak-O

Linéaire

75

RTO75L

100

RTO100L

123

RTO123L

Affiner

75

RTO75A

100

RTO100A

123

RTO123A

RainTrak-E

Linéaire

75

RTE75L

100

RTE100L

123

RTE123L

Affiner

75

RTE75A

100

RTE100A

123

RTE123A
RainTrak-O



RainTrak-E



All dimensions are in mm
Need advice in specifying RainTrak®?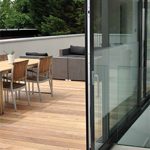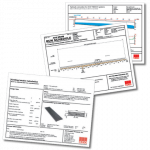 ACO offers project specific services designed to make specification, ordering and installation easy.
The services deal with each project's unique, hydraulic, structural, maintenance and spacial requirements. The service is fully documented and is offered free of charge and obligation.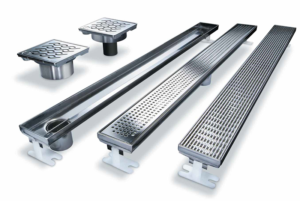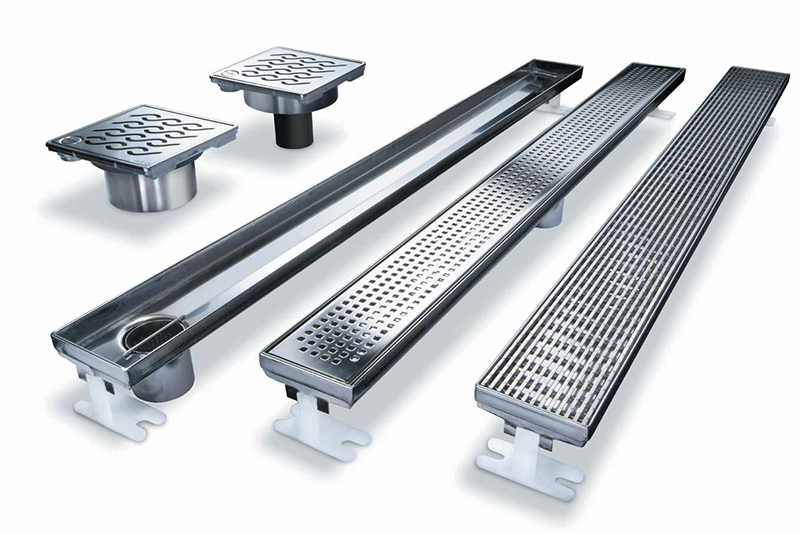 Bathroom drainage solutions
A range of floor and point drains that provide a visually compatible bathroom drainage products, creating a completely coordinated design.
For more info, click here.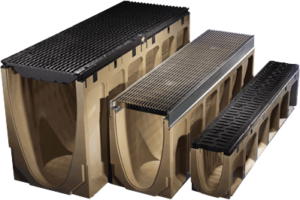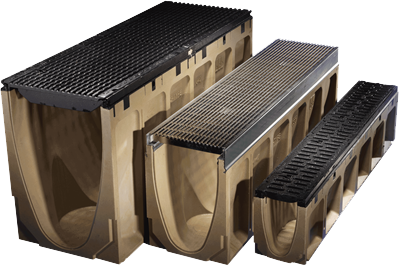 Commercial trench drains
A range of commercial drainage systems comprising Polycrete® Channels with the industry's widest selection of pedestrian safe lockable grates.
For more info, click here.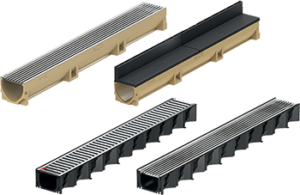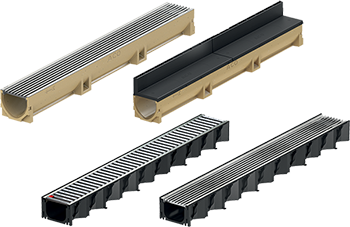 DIY Residential outdoor drainage
A range of building products specifically designed to meet the demands and budget of the residential builder and DIY enthusiast.
For more info, click here.